Welcome Message
It is my great pleasure to invite you to the First Cochrane Hong Kong Symposium which will be organised by the Nethersole School of Nursing, Faculty of Medicine, The Chinese University of Hong Kong on 23-24 and 27-28 May 2019.
Over the past two decades, Cochrane has significantly contributed to the promotion of evidence-informed health care decision-making through producing high quality and accessible systematic reviews and other synthesised research evidence. Cochrane evidence is internationally regarded as a powerful tool to enhance health care knowledge and practice. With the establishment of Cochrane Hong Kong, our School is committed to working hand in hand with other Cochrane centres around the world especially those in Asia towards a shared vision for better health.
This symposium, themed 'Pave the way for evidence-informed health care and policy-making', aims to provide an international multidisciplinary platform for health care providers, policy makers, academics and researchers to discuss contemporary strategies and issues in evidence-informed health care and policy formulation. It will also offer a valuable opportunity for participants to learn, network, exchange knowledge and foster relationships. Through the symposium, participants are expected to identify gaps and priority areas for evaluating innovations, examine review methodologies, and share new strategies and challenges in advancing the use of reliable research evidence to inform practice and policy-making, and to address some of the world's most-concerned diseases and health conditions.
During the symposium, internationally renowned Cochrane experts and health care scholars and researchers will be invited as keynote or plenary speakers. Also, there will be concurrent sessions to look into a wide range of theme-related topics, helping participants to make informed decisions for enhanced quality of care and health outcomes. After the symposium, a series of professional workshops will be arranged to enrich participants' knowledge and competencies in understanding and using systematic reviews in particular Cochrane Reviews.
Hong Kong is a unique and vibrant city bringing together the richness of Chinese and western cultures in a spectacular setting. Apart from attending the symposium, participants may also take this opportunity to explore the beauty and attractions of our city, which I believe will be an exciting and unforgettable experience.
We look forward to seeing you at the symposium in May 2019.

Sek Ying CHAIR
Director and Professor
The Nethersole School of Nursing
Faculty of Medicine
The Chinese University of Hong Kong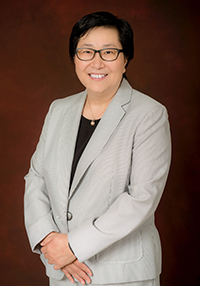 Professor CHAIR Sek Ying
Director and Professor
The Nethersole School of Nursing
Faculty of Medicine
The Chinese University of Hong Kong